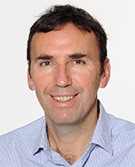 Mr. Matthew Tomlinson
MBChB, FRACS (Ortho)
Matt is an Orthopaedic Surgeon with a dedicated interest in the area of Foot and Ankle Surgery. He has considerable expertise in dealing with all types of foot and ankle problems with over 20 years of experience in this specialised area.
Some of the areas that Matt deals with include:
Arthritic conditions
Accidents affecting the lower limb or foot
Sports injuries
Deformities
Bunions
Minimally invasive surgery
Congenital problems
Arthroscopy of the foot and ankle
Ankle replacement
Revision surgery
Matt is involved in orthopaedic education both within New Zealand and overseas including teaching in an international capacity as an AO Foot and Ankle instructor. He is currently Head of Department, Counties Manukau Orthopaedics and President of the New Zealand Orthopaedic Foot and Ankle Society. He is an International Member of the American Orthopaedic Foot and Ankle Society.
Graduate of Otago Medical School 1983
Graduate of the New Zealand Orthopaedic Association training programme 1992
Fellowship training in England and the United States
Consultant orthopaedic surgeon Counties Manukau Health since 1995